Cameroon is recognized and admired for its ethnic and cultural diversity with, in total, more than 240 ethnic groups and as many languages and cultural expressions that meet in the country. This cultural diversity is manifested in the plurality of vocal, rhythmic and instrumental expressions. The practice of musical art is often associated with traditional literature and is still very much marked by orality.
But the absence of collection and transcription makes it difficult to transmit this cultural heritage. The association of the Friends of the Madrigal Choir of Cameroon has decided to carry out a project to preserve the Cameroonian cultural heritage. 
 Singing workshop during the General Assembly of the Foundation and the Espace Culturel Gacha 
What is the project? 
Starting in the summer of 2021, the Friends of the Madrigal Choir of Cameroon will set up workshops for the creation of choral works with the objective of collecting, transcribing and disseminating traditional songs transmitted orally. 
Three workshops of 5 to 7 days will be organized in several regions of Cameroon. The first one will take place in July in Bangoulap.

The teams of the Friends of the Madrigal Choir of Cameroon and the Jean-Félicien Gacha Foundation, together in Bangoulap. February 2021.
These workshops will have a double objective.
A pedagogical objective: through listening to works of compositions made around the world from traditional songs, participants will be able to explore various approaches to make traditional Cameroonian songs accessible to any type of choir and culture.
An artistic and cultural objective: the goal is to produce choral repertoires based on traditional songs and thus allow the dissemination of our culture but also contribute to its preservation.
Creation of repertoire
The musical creation workshops will make available to choirs of all levels (amateur to professional) unpublished repertoires of works based on traditional Cameroonian songs. These repertoires will be accessible to the worldwide choral singing network thanks to the publication of score booklets, then their distribution in a worldwide choral singing network.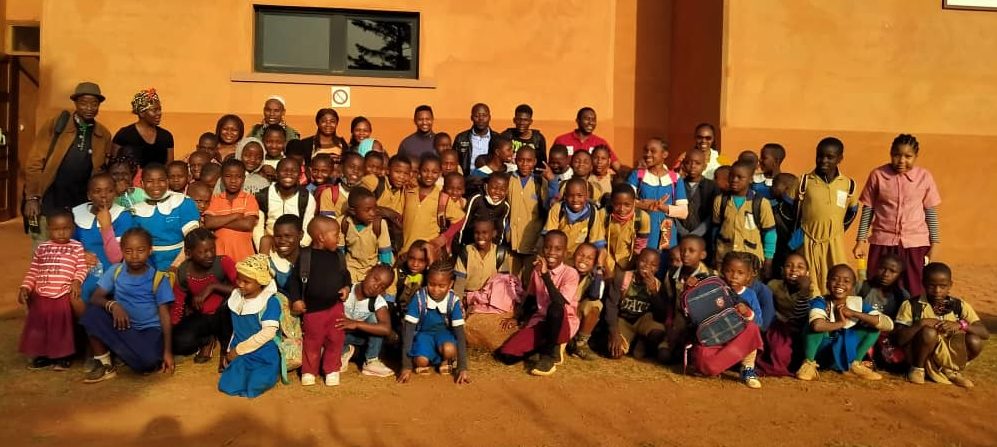 Family photo of the vocal practice workshop held in February 2021 at the Gacha Foundation, orchestrated by the professionals of the Friends of the Madrigal Choir of Cameroon.
« It is by giving the opportunity to all choirs and choruses of the world to interpret original works created from our traditional songs that we will promote the dissemination of our culture and show the cultural richness of our country. »
This is how the Gacha Foundation participates in the financing of this project, in order to allow the knowledge of the Cameroonian culture throughout the world.